The Arizona Desert Bighorn Sheep Society

Upcoming Project - Mar. 4-6, 2016
Silver creek / John Houzenga
More details coming soon...
In The News...
Update on the Black Mountain Bighorn Sheep Disease Issue
During the October 2015 bighorn sheep surveys in the Black Mountains of Units 15B West, 15C, and 15D, Region 3 personnel detected a possible disease event. The region observed dramatically fewer bighorn sheep in Unit 15C North and South and a smaller decline in Unit 15B West; however, Unit 15D observations were at a record high (Tables 1-4). During the survey, the Region also documented 5 dead and 1 sick bighorn sheep in Unit 15CN and 4 dead bighorn sheep in Unit 15B West.
ADBSS Board Meeting
February 10, 2016 7:00 p.m - Chaparral Suites Resort, 5001 N. Scottsdale Rd. Scottsdale, AZ. Board of Directors meetings are available to all members and anyone interested in bighorn sheep conservation. The meetings are the second Wednesday of every month at 7:00 pm (Except December).
ADBSS Annual Fundraising Banquet
February 27, 2016 Waterhole • 4:00 pm/Dinner • 6:00 pm - Chaparral Suites Resort, 5001 N. Scottsdale Rd. Scottsdale, AZ. The annual fundraising banquet is the Society's primary source of funds. All money raised at the banquet is used to benefit bighorn sheep through water development , habitat improvement , surveys, transplants, research, and other management activities. A number of high quality hunting and fishing trips will be auctioned, along with rifles, bows, camping equipment , original paintings, limited edition prints, bronze sculptures, unique furniture pieces and vacation packages. Items auctioned and raffled range widely in value, giving everyone an opportunity to participate.
 8 Great Raffles Going on Right Now!
Enter to win a Gould's Turkey Hunt, New Mexico Antelope Hunt, Weatherby Outfitter Mark V, Swarovski Optics Package, Arizona Youth Javalina Hunt, Colorado Youth Mule Deer Hunt, or a Youth Gear Package. Don't forget the Big 15 Super Raffle where 15 winners get their choice of 15 great prizes! Raffle ticket bundle packages also available.
Previous Raffle Winners:
Polaris RZR - Tom Vehr of Phoenix, AZ
New Mexico Desert Sheep Hunt - Jermy Williams of Perry, GA
>
Catalina Sheep Reintroduction Program
DONATE NOW!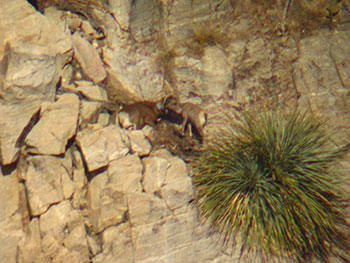 The ADBSS and the Arizona Game and Fish Department are working together to reintroduce bighorn sheep into the Santa Catalina Mountains. Here is a pic of the first Lamb born to our new herd in the Catalina Mountains near Tucson. This is exciting!!!
This type of intensive, multi-year project will take an extraordinary amount of work and funds to see it through successfully. If you would like to make a tax-deductible donation to this effort, click here. For more information about the program...
Help Arizona's Wildlife And Tell The World About It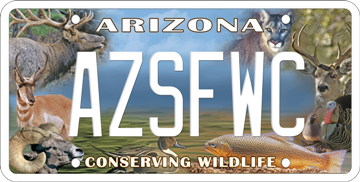 When you display the Arizona Sportsmen Wildlife Conservation License Plate, you are helping Arizona's Wildlife by supporting the Wildlife Habitat Grant Funds for habitat restoration and Youth Education Programs. Click Here for more information.
>