THE ARIZONA DESERT BIGHORN SHEEP SOCIETY


ADBSS Board Meeting
May 9, 2018 7:00 p.m - Embassy Suites by Hilton Scottsdale Resort (formerly Chaparral Suites Resort), 5001 N. Scottsdale Road, Scottsdale, AZ. Board of Directors meetings are available to all members and anyone interested in bighorn sheep conservation. The meetings are the second Wednesday of every month at 7:00 pm (Except December).
Upcoming Project
The ADBSS is very pleased to announce that the Mescal Ridge Catchment Redevelopment, March 15-18, 2018, has been dedicated to ADBSS supporter ROBERT D. FISHER.

The Hackberry Canyon #72 Catchment, to be held the weekend of April 13-15th, has been dedicated to ADBSS past president LARRY F. CULLEN.

We hope you can join us on these two important projects as we honor these two special men.


Hackberry Canyon #72 Catchment - April 13-15th, 2018
This is a new AGFD water catchment. Early volunteer assistance will be needed on Friday to prepare the site and level a pad for the new development. The new development will consist of 4 new HDPE 2500 gallon storage tanks, A 24' x 72' metal collection apron, a 4' deep walk in trough and a livestock ex-closure pipe rail fence.
In The News...
Humane Society of the United States Ballot Initiative
The Humane Society of the United States (HSUS) has now entered the Arizona ballot initiative process for the 2018 election cycle.
Here is the link to their ballot initiative application:
http://bit.ly/2yfUFOO
Their goal with this action is to get Arizona voters to reject a century of sound scientific wildlife management from our Arizona Game & Fish Department biologists, and turn over the management of wild cats to the ballot box, with an emotion based, non-factual initiative.
Events Calendar

>
Catalina Sheep Reintroduction Program
DONATE NOW!
The ADBSS and the Arizona Game and Fish Department are working together to reintroduce bighorn sheep into the Santa Catalina Mountains. Here is a pic of the first Lamb born to our new herd in the Catalina Mountains near Tucson. This is exciting!!!
This type of intensive, multi-year project will take an extraordinary amount of work and funds to see it through successfully. If you would like to make a tax-deductible donation to this effort, click here. For more information about the program...
Help Arizona's Wildlife And Tell The World About It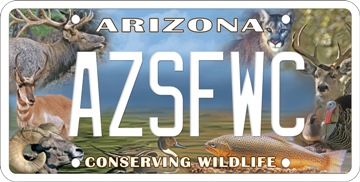 When you display the Arizona Sportsmen Wildlife Conservation License Plate, you are helping Arizona's Wildlife by supporting the Wildlife Habitat Grant Funds for habitat restoration and Youth Education Programs. Click Here for more information.